Dave T. Chapman is back with The Adventures of Winter Birding!
This exciting program will provide insight for viewing beautiful birds in the cold season whether you enjoy bird watching along hiking trails or in your own backyard. It will focus on many of the songbirds that visit your feeders, but also some of the rarities that can sometimes stay around after the breeding season. This eye popping presentation on backyard songbirds, waterfowl and birds of prey will set you off on a lifelong journey of looking for all your favourite species.
This Program is running from December 1st 2022 until March 31st 2023 and it is FREE!
Click here for this incredible program. If you loved the program and wanted to do some winter birding of your own, come out to check out the Bird Watching Kits we have for circulation in the Library!
Coffee/Tea & Connection
Join us every Friday from 1:00-2:30pm for a different topic each week! We will have guest speakers, book talks, craft activities in a friendly forum to meet new people, chat with familiar ones and learn something new about our community! All while enjoying a hot beverage and a sweet snack. For everyone ages 18+.
Starting back January 13th! *topics subject to change*
***Please be advised we will not have programming Friday February 3rd 2023 and Friday March 17th 2023.***
January 13th Amrita from AB Healthy Fitness
January 20th Marsha Ellis from Grand Valley Hatha Yoga
January 27th Online Banking 101
February 10th "Show your Hearts" Card Games
February 17th The Alzheimer Society Dufferin County Presentation
February 24th Tech 101
March 3rd The Recipe Book Pageant
March 10th Dr. Nauth-Ali from the the FIT Clinic
March 24th Adult Colouring
March 31st Build your own Terrarium
April 14th Chat with the Mayor Steve Soloman
April 21st TBA
April 28th BINGO
May 5th TBA
May 12th Arletta Huson Butterfly Presentation
Coffee, Conversation & Books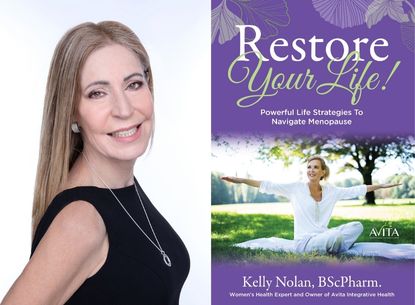 Come join us for the next session
Wednesday, February 15th @ 7:00p.m.
Join Dufferin Libraries for their Coffee, Conversation & Books series where local authors are featured in local coffee shops.
Grand Valley Public Library will host local author Kelly Nolan at the Perked Pierogi in Grand Valley to discuss her recently published book Restore Your Life: Powerful Life Strategies to Navigate Menopause.
Nolan is a pharmacist and women's health expert with 30 plus years experience. Her extensive expertise in women's health and specialized training in saliva hormone testing provides women with a powerful step-by-step tool and customized solutions to balance hormones and overcome their worst menopausal symptoms.
Previous Author recordings.
Deputy Mayor of Shelburne, Steve Anderson, debut memoir "Driven to Succeed". Watch the recording here!
Valorie Mathers, local Children's book author of "Preschool Adventures" . Watch it here!
Watch the interview with Diane Bator.
Vaccine Information Session
Do you have questions about COVID-19 and the vaccines? Attend this information session facilitated by Wellington-Dufferin-Guelph Public Heath to learn more.
Did you miss it? Watch it here!
Together We Read
Together We Read is a Digital Book Club that is featuring participating libraries in Canada.
Oct. 17-30, 2022 Still Hopeful by Maude Barlow, published by ECW Press. In this non-fiction title, Barlow responds to pessimism and offers lessons of hope that she has learned from a lifetime of activism.
During each two-week program, there will be no waitlists and no holds for the selected title. Download Libby to borrow the free ebook or audiobook from your library using your phone or tablet.
For more information check out the Together We Read Website
Follow us on Facebook and Instagram @grandvalley_publiclibrary for current events and library information. We also have a TikTok account @grandvalleypubliclibrary so give us a follow for some fun!
Join us to have a story read aloud to you by a town dignitary or business owner/member and discover the faces and places in our community. Geared towards children ages 0-5, but adults and older siblings might also enjoy sharing in this timeless tradition of reading a good story together.
Check out our Events Calendar for all our programs at a glance!